ICSM News for June: with listings of who has gone bust by industry sector in May and updates on firms on the brink of collapse
Hello and Welcome to our June Newsletter

To paraphrase the line from the film Jaws - just as we thought it was safe to go back into the water on 21st June it now seems it won't be as the rules may be changed again.
Without doubt the pandemic is the biggest crisis for British business since the outbreak of World War 2 in 1939. Yes, we've had recessions in the 70s, 80s and 90s, plus the Credit Crunch in 2008, but to see viable firms have their markets taken away from them in the last 16 months is a hammer blow.
Of course business will bounce back but many won't and that's where ICSM can help as through our thousands of members we discover who isn't paying their invoices and who may well go bust when all the grants and furlough scheme ends.
All businesses that can see a way through the mayhem and go on to prosper be they must be on their guard. There are firms out there run by some desperate directors who will do anything to save their enterprise - including delaying payments to suppliers. Make sure you don't fall for the modern day equivalent of 'the cheque's in the post.'
If there's any concerns over a customer keep ICSM informed and do a credit check using our data - it could save you a fortune. And if a client is refusing to pay then ICSM's debt collection service is a highly effective way to secure payment. For those small written off invoices you've given up on from last year then use our free micro debt recovery service - it has an 80% success rate and costs you nothing.
Our news section follows all the main issues of the day from a wide variety of industry sectors - do check out our website for more as we chart these 'interesting times.' And as always we list the insolvencies in Runners and Riders by breaking the list into different sectors representing some of the key ICSM membership groups.

Best wishes
Ian Carrotte
Proprietor of ICSM Credit
For details about ICSM Credit call 0844 854 1850 or visit the website www.icsmcredit.com or email Ian at Ian.carrotte@icsmcredit.com





ICSM Credit, the Exchange, Express Park, Bristol Road, Bridgwater, Somerset TA6 4RR

Not a member? Normally you can join for less than a tank of diesel and protect yourself from late payers but we have a special free temporary membership offer this month. Use our free legal letters to chase unpaid invoices.
For a video on how to send a FREE LEGAL LETTER visit: https://youtu.be/AIycysoFhYo
+++++++++++++++++++++++++++++++++++++

Britain's largest sub-prime money lender on the brink of collapse as echoes of the 2008 Credit Crunch continue
There's a certain irony that a company that lends to those in financial straits is itself in financial trouble. That's the situation today for Amigo after the High Court rejected its plan to set aside cash for compensation to victims of miss-selling last week.
The BBC's Kevin Peachey said: "Amigo, which lends money to those with a poor credit history, has said it faces insolvency without a new plan to cap pay-outs for mis-sold loans. Now Amigo has said it will not appeal against that decision and was, instead, investigating all options - including an alternative plan, or insolvency."
Ian Carrotte of ICSM whose members keep tracks on struggling companies and bad payers said not only were jobs at stake but also suppliers to Amigo may not get paid.
He said: "Many self-employed people who have struggled to pay bills due to the lockdowns and business shut downs will have taken out loans with Amigo in desperation. With an interest rate of nearly 50% a borrower has to pay nearly double the amount they borrow. It's insane but the restrictions to business has driven many to borrow on such terms."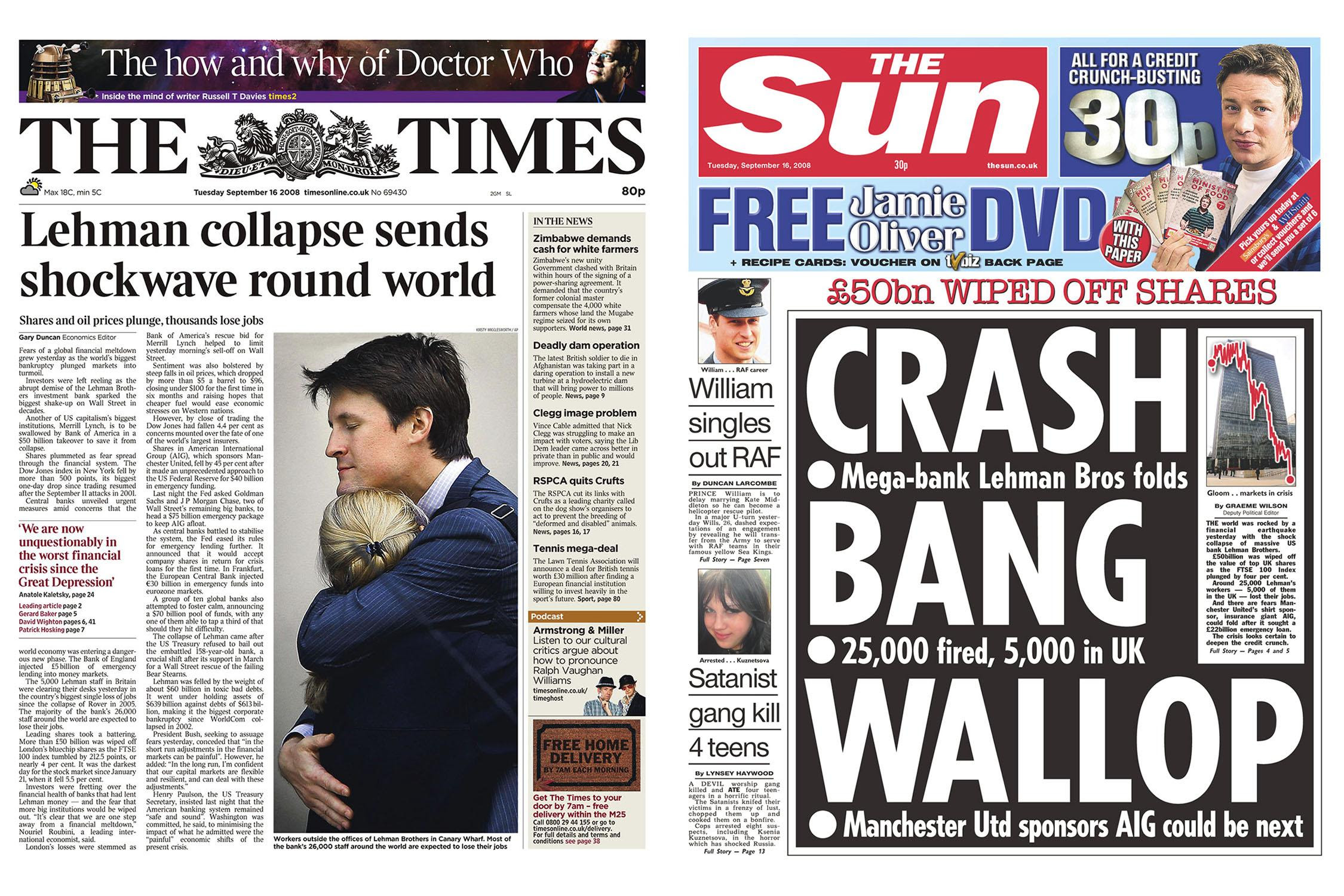 How the papers saw the infamous 2008 Credit Crunch
The firm's share price collapsed today as administration loomed falling to just 8p. Last month Amigo thought they had found a solution to paying compensation to borrowers who had been given loans they could never afford to repay. The scheme would have channelled money into a separate company which would have protected the main business but with such a tiny turnout to vote on the plan the judge in the High Court rejected the plan in part as it placed restrictions on compensation claims.
Amigo has 150,000 customers but stopped lending last November as looming compensation claims threatened to force the company into making massive pay-outs. The sub-prime market has been bedevilled since the now infamous 2008 Credit Crunch which brought the banking system on both sides of the Atlantic to near collapse. Once it became possible to sue the lender for selling high interest loans to people with no hope of being able to repay the sector has struggled to remain solvent.
+++++++++++++++++++++++++++++++++
Five years on, the final chapter of the collapse of Polestar is written as PUPL Realisation Ltd, (Polestar UK Print) is dissolved
There are a lot of people in the printing and allied industries will raise their eyebrows over the news that the last part of the once mighty Polestar empire has been confined to history.
Polestar UK Print which became PUPL Realisation Limited has been wound up as reported by Jo Francis in Print Week, the industry's main trade publication.
The journalist reported: "Five years' ago this week, Polestar's once flagship Sheffield supersite ceased web offset operations, with the entire factory shuttered by 31 May 2016. The web offset and gravure printing group's messy failure caused huge repercussions for its clients and sent a shockwave across the industry as publishers scrambled to find alternative printing arrangements – with some work heading to the continent as a result, although the vast majority of it has now been repatriated to the UK.
"The various Polestar companies involved in the group's multi-site structure, which was further complicated by the pre-pack sale to Proventus in March 2016, are all now dissolved. Polestar had sales of £535m at its peak, although this had fallen to £216.4m in 2014. The group's 2015 accounts were never filed."
Ian Carrotte of ICSM has bitter memories of the collapse as it left creditors with a £235m headache in unpaid invoices ahead of the pre-pack with Proventus in 2016. He said: "A large number of companies lost a lot of money when Polestar went down causing untold heart ache for suppliers. It was pretty much one of the biggest players in the business and to collapse in the way it did was devastating. There were question marks at the time over the pre-pack and the subsequent fate of the rump of the company."
He also said it was a sign of the times as the print industry was under attack from the internet and decline in newspaper and magazine circulations. Since then more players in the business have struggled and gone to the wall as the market shifted from long print runs to shorter digital printing and any firm with major debts will always struggle in a contracting market.
In 2016 PwC attempted to find buyers for the various sections of the group which at the time included the flagship gravure and web offset site at Sheffield, web offset sites in Bicester and Chantry, the sheetfed magazine printer Stones in Banbury, and book and journals printer Wheatons in Exeter.
++++++++++++++++++++++++++++++++++
Liberty Steel crisis latest: Sajeev Gupta puts more plants up for sale; Bank of England suspected Gupta's bank in 2019; and Ian Carrotte says collapse is inevitable
The likelihood that Liberty Steel will eventually collapse seemed more likely today after the effective owner businessman Sanjeev Gupta put seven UK steel plants up for sale.
Writing in the Daily Mail this week Lucy White explained the sale was an attempt to pay off a long list of creditors. She reported: "The troubled metals tycoon, who is being investigated by the Serious Fraud Office (SFO), wants to get rid of the giant speciality steel plant in Stocksbridge, South Yorkshire, which employs 762. He will also look to sell plants in West Bromwich and Brinsworth, South Yorkshire, which together employ another 268 workers, as he attempts to hold the core of his business together."
ICSM's Ian Carrotte has said previously that Sajeev Gupta's business empire is built on sand and is likely to collapse with the evidence to support this opinion coming from the Government as they turned down a request for a £170m bailout due to the 'opaque' nature of the businesses.
He said: "It's like a slow-motion car crash. Gupta does not have enough cash flow to service the debts he has accumulated. Liberty Steel used Greensill to factor invoices but they have gone bust so he is desperate. It's a classic case where a firm is effectively insolvent and they fail to take responsibility for the situation and call in the administrators. The general feeling from outsiders is the administrators will discover things which the owner does not want them to find."
The BBC reported that Gupta's GFG Group, was probed by the Bank of England in 2019. The Wyelands Bank which is part of his business group is facing possible liquidation, while Liberty Steel's owner GFG is also facing collapse after the liquidation of its biggest lender, Greensill Capital.
Adding pressure is the inquiry launched by the Serious Fraud Office into aspects of Gupta's business dealings.
Ian Carrotte said: "At stake is millions of pounds of tax payer cash, thousands of jobs and millions owed to suppliers who are facing disaster if Gupta fails to pay up."

++++++++++++++++++++++++++++++++++

More stories: check our website for news on logistics, construction, hospitality, printing and publishing - and much more
PLUS: April's insolvencies, crypto currency collapse, inflation concerns, and Gwyneth Paltrow's Goop company could be struck off by Companies House https://www.icsmcredit.com/news/viewpost.php?id=427
PLUS: The puzzle of fewer insolvencies in a shrunk Covid-affected economy – what's behind the figures? https://www.icsmcredit.com/news/viewpost.php?id=432
PLUS: Printing industry takes another hit as Zanders Paper folds – plus news of more print industry firms in trouble https://www.icsmcredit.com/news/viewpost.php?id=420
++++++++++++++++++++++++++++++++++
Runners and Riders
Below is a collated list taken from the Government's London Gazette of various businesses who are experiencing problems in the last few weeks.
We have broken them into different sections to make it easier to see and we have included the company number in each case.

PRINTING AND ALLIED INDUSTRIES
Administrators Appointed
Monument Paper bag Company Limited (The) 00481099

Creditors' Voluntary Liquidation Deemed in Consent Meetings
ASN Communications Ltd 10976293
AMD comms Limited 12205106
Clarendon Press Gloucestershire Limited 05144567
Datum Colour Print (Hatfield) Limited 04198069
Doublesix Digital Publishing Limited 06429398
Fled Film Limited 10982318
Gorger Film Productions Limited 10408464
JRC Marketing Limited 10230701
KJ Displays Limited 05285566
ML Design Services Limited 09606298
RPW Design Limited 09073948
S.D.A Exhibitions Limited 12175768
The Branding Team Limited 06594483
Wise Panda Media Limited 11393089
Yolo Attire Limited 11217901

Liquidators Appointed
& Then Studio Limited 10816310
2G Audio Visual Limited 07747653
Accoil Paper Recycling Limited 08754963
A & H Images Limited 01831837
Blinkfish Design Limited 09269722
Brands Reunited Limited 08905243
BR Communications Services Limited 09719860
Bristol Ethicurean Limited 07963194
Candid Cards Limited 00791495
Capvar Media Limited 08395240
C-Space Limited 11359111
Datum Colour Print (Hatfield) Limited 04198069
Dna Manufacturing Clothing Limited 11398998
DTS Communications Limited 02748749
Editions Craig Leon Limited 05282662
Eddison Books Limited 09855346
Eurotex (Sales) Limited 03470676
Fate Promotions Limited 05096129
Glance Creative Limited 10457829
Inflate Works Limited 08215914
Kalo Digital Limited 09648259
Letterspace Origination Limited 02928875
Prodoto Photographic Studios Limited 06821861
Suttons Envelopes Limited 06330926
TC Plastics (ME) Limited 07922854
The Syndicate Film Limited 09341240
Tryptych Design Limited 05678913
Unicorn Productions UK Limited 07010778
Vincent Press Limited 07328251
Wayfinder Creative Limited 10862908
Woburn Media Limited 03654815

Members Voluntary Liquidations
AD-Rail Metro Limited 10119510
Atom Paper Limited 09757234
Chameleon Studio Limited 04701608
Creative Broadcast Solutions Limited 04442058
Corinna Field Communications Limited 09845533
DTS Communications Limited 02748749
Face of Somerset Limited 09718449
GTM Textile Machinery Limited 05541815
Jordan Bullen Design Limited 11659752
Raysca Creative Limited 08926339
Stuff Product Design Ltd 07969123
The Mango Agency Limited 05216709
Little Did She Know Limited 08295165
M & G Designs Limited 09561699
Prepress Services Limited 06595203
Vicat Media Limited 07323803

Petitions to Wind Up
WV Industries UK Limited 07676530

LOGISTICS, TRANSPORT, VEHICLES AND ALLIED INDUSTRIES
Administrators Appointed
Pendle Coaches Limited 08546339

Creditors' Voluntary Liquidation Deemed in Consent Meetings
AE Rail Limited 09706688
Bristol Freight Limited 11221639
Cross Channel Carriers Limited 10452933
Earls Fleet Services Limited 11218559
Flatpack Assembly Services Limited 10986540
Flatpack Global (UK) Limited 11973663
KMAC Rail Services Limited 08664374
Natasha Motors Limited 09164514
New Rodley Motors Limited 07918673
Picton Motors Limited 11354284
Regent Transport Limited 10806929
Roll On Off Services Limited 03159676
The Vintage Caravan Workshop Limited 07674686
Yorkshire Plant Hire and Sales Limited 11749289

Liquidators Appointed
AFC Global Transport Limited 10544062
Alexander's Self Storage Limited 06439470
Center Transport Limited 08096624
Compass Vehicle Logistics UK Limited 09532938
Cross Channel Carriers Limited 10452933
Earls Fleet Services Limited 11218559
Fast Despatch Logistics (Cardiff) Limited 11613206
J Hunnisett Rail Limited 10173886
Motor Bros Limited 12503553
Removals Worldwide Limited 05723869
RFL Classique Limited 09203151
Shaker 4 Transport Limited 11067331
Smartbus Limited 06276721

Members Voluntary Liquidations
Hand Picked Cars Limited 09518858
Holyrail Limited 06763042
Last Mile UK Logistics Finco Limited 11420254
MSR Supply Chain Limited 10906201
Stafford Space Limited 10317025
Storage Boost (Stafford) Limited 06414204
Westlink Storage & Shipping Company Limited 03037077

Petitions to Wind Up
Perrobin Logistics Limited 11539948

Winding up orders
KP Distribution Enterprise Limited 09740205

CONSTRUCTION, PROPERTY AND ALLIED INDUSTRIES
Administrators Appointed
Monument Paper Bag Company Limited (The) 00481099
The Fascia Division Limited 04319372

Compulsory Liquidators Appointed s 136
Heritage Design and Build (UK) Limited 03898871

Creditors' Voluntary Liquidation Deemed in Consent Meetings
Cartley Landscape Supplies Limited 11055416
Grand Construction And Building Services Limited 10470310
Henry Rowlands Construction Limited 05392569
Kinge Homes Limited 10518486
Living Space Construction (Herts) Limited 08962178
MMS Construction Limited 11095477
MSC Building Services Limited 08610531
Perfect Steel London Limited 08800679
South Coast Drainage & Plumbing Limited 11769584
Sutton Coldfield Construction Limited 07261372
Willow Design and Build Limited 11279374

Liquidators Appointed
Avebury Architectural Services Limited 09630012
Benavon Homes (Evesham) Limited 05561993
Charles J Hancock Limited 10985349
Elite Building Bromley Limited 10005845
Fewell Precision Limited 07174430
Finnoah Construction Limited 09464572
Focus Facades Limited 10440754
Harper & Sons Developments Limited 12290078
Longshaw Construction Limited 04009540
North West Construction UK Limited 02060487
T&T Construct Limited 11722734
Tim Halliwell Plumbing & Heating Limited 05887903
Trend Design & Build Limited 11114607
Viliamko Builders Limited 07252619

Members Voluntary Liquidations
Belfast Properties Limited 00661188
Castlebrook Homes Limited 09842477
Delaval Homes Limited 02432779
First Rate Plumbing And Heating Limited 04974599
HF Hughes & Son Limited 00367776
Higgin Homes Limited 10223542

Winding Up Dismissal
Mobile Homes Sales & Letting Limited 10567073

Winding up orders
Assegai Design and Build Limited 07685100
Gilb Construction Limited GILB 07123381
Kersfield Developments (Ensleigh South) Limited 09185224

HOSPITALITY, TRAVEL, EVENTS AND ALLIED INDUSTRIES
Administrators Appointed
Henbury Social Club & Institute Limited IP17913R

Administrators Meetings Para 51
Baxter Hoare Travel Limited 00967736

Creditors' Voluntary Liquidation Deemed in Consent Meetings
A Nineteen Pub Company Limited 11448516
Aqua Brasserie Blackheath Limited 08523348
Artemis Leisure Limited 06237606
Bluedaze Limited 07018189
Dancing Fish Events Limited 07813170
Goa Hip Hop Festival Limited 11969204
Gold Star Global Events Limited 11068693
Jolly Fine Malt House Limited 07957702
Kings Catering North East Limited 09543346
Maestra Events Limited 09826384
Mercury Events Limited 08003000
Mercury Events Retail Limited 12941703
M Junction Limited 10925819
SA Food Stores Limited 10976928
Scott and Babs Woodfired Food Limited 09568398
SC Holiday Solutions Limited 08732843
Swan Pier Company Limited 05901281
Terry's Restaurant Limited 12219785
The Bird In Hand Bromley Limited 08731576
The Crescent Hotels Limited 08557483
The Field Kitchen (UK) Limited 07457911
The Plough Inn Holford Limited 11573738
The Unit Fitness UK Limited 09730476
The Victoria Inn Ashburton Limited 10755497
Vivid Hospitality Solutions Limited 08658860
Zugers Bromborough Limited 11638610

Liquidators Appointed
AK & B Catering Limited 10724470
Ashmount Hospitality Limited 10686865
Beanbag Coffee Limited 09127302
Busy Bee Events Limited 07162716
Brunch Box Limited 12077623
Café Avenue Limited 11677589
Cali Juices Limited 11798166
Cambridge Pub Group Limited 10148077
Catering Business Solutions Limited 11691543
Chamberlains Restaurant Limited 04026407
Escape Inside And Out Limited 09253513
Farmhouse Pizzas Org (UK) Limited 10338176
Franklin Bar Limited 06936382
Goa Hip Hop Festival Limited 11969204
Half Moon Bay (Leisure) Limited 05222630
HN Events Limited 12340048
INV Project Limited 10203012
Isha Weddings Event Limited 10620329
Joes Burgers Limited 10804704
J Honny's Restaurants Limited 11835720
Kirkpatrick Restaurants Limited 05354148
Keystone Entertainment Limited 11012334
Leicester Square (London) Hotel Limited 10615716
Lucky Crab Limited 10627298
Mad Hatters Tea Room and Bakery Limited 08407246
Music & Events Limited 12154362
Megna Restaurant Limited 04779005
MJB Events Limited 09977529
Nash Inns Limited 04913376
Promac Leisure Limited 05089308
SC Holiday Solutions Limited 08732843
Sival Hotels Limited 02009036
Southampton Nuffield Theatre Trust (The) 01711502
Sparkford Events Management Limited 10904063
Simple Leisure Limited 07086194
Spicy Chef Limited 11596213
Starlink Euro-UK Limited 10294235
The Victoria Inn Ashburton Limited 10755497
True Italian Restaurants Limited 10926867
Toms Event Bars Limited 10440036
Top Event Limited 04380494
Top Choice Holidays Limited 04455228
Victory House (London) Hotel Limited 09162585
Wardour Restaurants Limited 11871804
Winebuyers Limited 09816569
Woodend Bar Limited 09515790

Members Voluntary Liquidations
International Airline Passengers association (EAME) Limited 02577549
Knowle Grange Leisure Limited 04594639
Mole and Chicken Inn LLP OC422418
RSA Hotels Limited 08100238
SOF-10 Starlight 13 Operations Limited 09300955
The Executive Club International Limited 01455887

RETAIL, WHOLESALE AND ALLIED INDUSTRIES
Administrators Appointed
AW Retail Limited 06879213
Fresh @ Burcot Garden Centre Limited 05397035
Pink Parasol Limited 10227174
TL 2021 Limited 04038659

Compulsory Liquidators Appointed s 136
HW Retail Limited 08269584

Creditors' Voluntary Liquidation Deemed in Consent Meetings
Bespoke Revolution Ltd 11744870
Cali Juices Limited 11798166
Connoisseurs Fine Foods Limited 04921192
Cotswold Creative LIving Limited 09055064
Dashi (Bath) Limited 09513635
D&S Cosmetics Limited 11491623
Final Mile 2021 Limited Formerly GBA Final Mile Ltd 10670190
Humber Fish Company Limited 11289481
JDA Fashion Limited 11613289
Keating Supercars Limited 06073631
Match Bags UK Limited 08531263
Match Skin Salon Limited 10932683
Nyama Butcher Limited 07157729
R.J Leigh Limited 07280678
Rosario Tailoring Ltd 06750329

Liquidators Appointed
Continental Food London Limited 12012985
Foreva Young Limited 10398204
Garden Fruit Vegetable Ltd 09027977
Kellsway Convenience Store Limited 10765933
Total FX Fireworks Limited 07703164

Members Voluntary Liquidations
Bristol Meat Trader Limited 04973191
J R Cowan Limited 00841481

Winding Up Dismissal
Prees Village Stores Limited 08675276

Winding up orders
Silverlane Estate Limited 11219667

VARIOUS INDUSTRIES

Creditors' Voluntary Liquidation Deemed in Consent Meetings
Durham Steel Erection Limited 09179294
Keating Supercars Limited 06073631
Pinnacle Athletics Limited 11774423
Swimming Pool Design and Management Limited 05482917

Liquidators Appointed
Clever Cloggs Childcare Limited 11193559
Concept Bathrooms Limited 07426234
Custom Creation Paints Limited 09444897
Bustagut Recruitment Limited 06116009
Grange Mill Energy Centre Limited 11685330
Oxxtem Oncology Limited 10028329
Pickering estate Agents Limited 07412628
Premier Hairdressing (Nottingham) Limited 11012825
Priory Homes (East) Limited 07612601
Purple Pelican Hair Limited 09890248
The Vintage Caravan Workshop Limited 07674686
Wigan Football Company Limited 03477413

Members Voluntary Liquidations
B&HT Engineering Limited 11390214
Carrotte Process Engineering Limited 06369982
Marsh Farm Limited 03054184
Northern Education Associates Limited 03964217
PA Restructuring Limited 07616432
Patel Medical Services Limited 06082117
Perfect Smile Orthodontics Limited 08346864
Strategies For Education (S4ED) Limited 04489524
Westfield Recycling Limited 05051050
Wold Egg Supply Company Limited 02047222

Types of Insolvency
Administration
Administration applies to limited companies and partnerships and is intended to get the company out of trouble and trading again if possible. Administrators can be appointed to a company that is unable, or is likely to become unable, to pay its debts. They can be appointed by the courts (on application from a creditor, directors or partners), the holder of a qualifying floating charge over the assets of the business, or the company or its directors. An administrator's primary goal is to rescue the company as a going concern. If this isn't possible, the administrator will try to get a better result for the creditors than would be possible if the company was wound up. If neither of these is possible, the administrator will sell the company's property to make at least a partial payment to one or more secured or preferential creditors, such as employees or the bank.
Administrators Meetings Para 51
This statement by the administrator of his proposals must be accompanied by an invitation to an initial creditors' meeting (Sch B1, para 51(1)).
Bankruptcy
This can only apply to individuals (including sole traders and individual members of a partnership). Bankruptcy petitions may be presented to the court by the individual, by creditors who are owed £750 or more, or by the supervisor of an individual voluntary arrangement. A bankruptcy order is made by the court.
Company Voluntary Arrangement (CVA)
A company comes to an arrangement with its creditors to pay the debts in full or in part over time. A CVA begins with the company (or its adviser) drafting a formal proposal at a Creditors' Meeting to pay part or all of the debts. If the proposal is accepted by the creditors, the arrangement will become legally binding and the directors will retain control of the company.
Compulsory Liquidation
This is the winding up of a company or a partnership by a court order (a winding up order). A petition is normally presented to the court by a creditor stating that he or she is owed a sum of money by the company and that the company cannot pay.
The Official Receiver becomes liquidator when the order is made but an Insolvency Practitioner will be appointed to take over if the company has significant assets. The liquidator's role is to realise the company's assets, pay all the fees and charges arising from the liquidation, and pay the creditors as far as funds allow in a strict order of priority.
Compulsory Liquidators Appointed S 136
When a winding-up order has been made, the Official Receiver is initially appointed as liquidator (section 136, IA 1986). The company's creditors and contributories may appoint another individual, who must be a registered insolvency practitioner, to act as liquidator (section 139, IA 1986). More than one liquidator can be appointed to act jointly.
Creditors' Voluntary Liquidation
Here the shareholders pass a resolution to wind the company up without the need for a court order. A Creditors' Meeting is held to nominate the appointment of a liquidator and consider a statement of affairs. Creditors can appoint a committee to work with the liquidator, whose role is to realise the company's assets, pay all the fees and charges arising from the liquidation, and pay the creditors as far as funds allow in a strict order of priority.
Creditors' Voluntary Liquidation Deemed in Consent Meeting
Creditors are now 'deemed to have consented' to a decision or resolution if 10% of creditors (by value) have not objected to it. In other words, if objections are not received by the specified decision date, creditors are 'deemed to have consented' to the decision or resolution.
Individual Voluntary Arrangement (IVA)
An individual comes to an arrangement with creditors to pay his/her debts in full or in part over time as an alternative to bankruptcy. The arrangement is set up by a licensed Insolvency Practitioner who will put it to a meeting of creditors. If the proposal is accepted at the meeting, the agreement reached with the creditors will be legally binding. An Interim Order is sometimes issued by a court and will immediately protect the debtor from any legal action by creditors.
Petitions to Wind Up
A winding up petition is a legal notice put forward to the court by a creditor. The application, in effect, asks the court to liquidate the company as they believe the company is insolvent. Proceeds of the liquidation can be used to pay back creditors.
+++++++++++++++++++++++++++++++++++
ICSM

CREDIT
For information on

ICSM

visit www.icsmcredit.com or call 0844 854 1850.


ICSM

, The Exchange, Express Park, Bristol Road, Bridgwater, Somerset TA6 4RR. Tel: 0844 854 1850. www.icsmcredit.com. Ian.carrotte@icsmcredit.com